The Jelkes Creek-Fox River Watershed is a sub-basin of the Upper Fox River Watershed.
Location:

Kane, McHenry & Cook Counties. 40 square miles.
This subwatershed bears the name of the largest creek, Jelke Creek, in its boundaries but it also includes the Fox River from Rte 62 to Hwy 20, and these tributaries:
Carpenter Creek, Dixie Creek, Fourwinds Way (Selmartin) Creek, Lake Marion (Delta) Creek, Cougar (MacIntosh or No Name) Creek, Ratt Creek, Shaw Creek, and Sleepy Creek. Includes: Algonquin, Barrington Hills, Carpentersville, East Dundee, Elgin, Sleepy Hollow, West Dundee and unincorporated areas of Dundee Township.
The watershed planning process brought together residents, municipal officials and agency personnel working towards the common goal of protecting water quality. The result was the development of a watershed plan. This plan in not a legally binding document but rather a tool to make informed decisions.
The Jelkes Creek-Fox River Watershed plan guides the work
of the coalition and benefits the community by:
• Involving stakeholders in a cooperative partnership
• Focusing on a waterway and its tributaries
• Establishing goals and management objectives
• Identifying and assessing impairments to water resources
• Providing recommendations to help with point and nonpoint
source pollution issues
• Suggesting voluntary methods to protect and enhance water
quality
• Developing an action plan for restorative and preventative
efforts
• Supporting applications for grant funding and technical
assistance
Documents
Jelkes Creek Executive Summary 12-12
Jelkes Creek Action Plan 12-12
Watershed Action Plan Chart
Naming Options for Jelkes Creek – Fox River "GROUP"
Jelkes Creek – Fox River Watershed – Problem Statement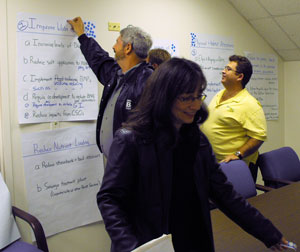 November 2010 Meeting - stakeholders rankings goals for the planning process
Funding for this project was provided in part through the United States Environmental Protection Agency under Section 319(h) of the Clean Water Act distributed through the Illinois Environmental Protection Agency.